(30.03.2016)
The Nice Guy – West Hollywood, California
Selena Gomez, Nick Jonas and Marilyn Manson stepped out for a night at the bar, as did LA Lakers stars D'Angelo Russell and Jordan Clarkson and Bill Kaulitz from German band Tokio Hotel.
Rock Star: Bill Kaulitz from Tokio Hotel gave Manson a run for his money with another strong rock look, wearing a leather jacket and zip-up hoody, ripped jeans and beat up trainers. Like Manson, he wore aviators and proudly displayed his pierced septum.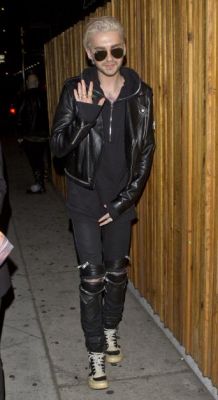 To see THe Full set, click an image ; )
– source
Bill smiles at the cameras
Kaulitz was photographed when leaving the premises in West Hollywood by the waiting paparazzi who were not disappointed by the smiling singer.
Bill Kaulitz, 26, enjoys his life in Los Angeles far away from his native Germany and a visit to well-known celebrity hotspot. So the singer of the band Tokio Hotel has been sighted when leaving the "The Nice Guy" restaurant.
– source
(01.04.2016)
Tokio Hotel's Bill Kaulitz Steps Out with Freshly Bleached Hair
Bill Kaulitz is all smiles while stepping out in his all black outfit for a night out at The Nice Guy on Wednesday evening (March 30) in West Hollywood, Calif. The 26-year-old Tokio Hotel singer showed off his freshly bleached blonde hair during the fun night on the town.
– source